The town of Le Lavandou paid tribute to the photographer Robert Doisneau (1912-1994) in 2004 on the 10th anniversary of his death. The exhibition entitled "Les grandes vacances" displays fifty photographs taken in Le Lavandou in August 1959 including some that have never been seen before.
His friend Jacques Prévert said: "when he's working on the street, he uses his lark's lure and poacher's trap with fraternal warmth, no sense of superiority and he always conjugates the verb "to photograph" in the objective imperfect.".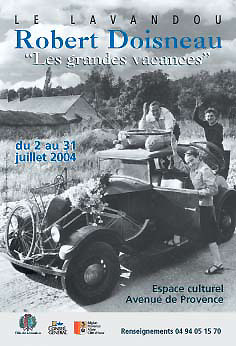 Between the 1930s and 60s, Robert Doisneau "covered" the famous holiday getaways which punctuated most French people's working lives. From 1936, the summer holidays left workshops, offices and factories empty. Computers were turned off and suitcases were filled up. Additional trains and planes were drafted. Corridors and car boots were packed. Houses were locked up and people hit the motorway heading for the sunshine..
The whole of France seemed to live for the holidays. We owe it all to Léo Lagrange! And we must thank Robert Doisneau, the "great personal spectator", who immortalised the times when we left behind our everyday working worries year after year...
To coincide with the exhibition* as the first holidaymakers arrive, the photographer's beneficiaries (Francine Deroudille and Annette Doisneau) have opened up their archives and provided the contact sheets for a report dating back to August 1959 by Robert Doisneau in a French Touring Club campsite in Pramousquier, just outside Le Lavandou. Visitors can explore never-before-seen images by France's most famous photographer and Le Lavandou has another artist who loved its lifestyle to add to its long list.
* Please see the book published in 1991 by Éditions Hoëbeke with text by Daniel Pennac.