The fountain is the symbol of life and in each village in Provence you will come across a fountain around a little square or in the shade of a majestic plane-tree.

In Le Lavandou, we have 12 fountains which pour out water like a welcome offering
1-Fountain of the Three Dolphins.
It shows the coats of arms of Le Lavandou with its dolphins and lion surrounded by oak and olive leaves.
2-Bassin in the Place de Mado.
Recalls the former washing place in the station district at the time of the little Train des Pignes nicknamed "Le Mascaroun" (the Mask)
3-Hippolyte Adam Fountain.
Homage to the famous banker who set up house at Cap Layet, and was the fore-runner of tourism in Le Lavandou.
4-Le « Lavadou ».
Probable etymology of the origin of the name Lavandou, in the era when the "Bugadières" washer-women washed the laundry of the Pescadous
5-Miroir aux Oiseaux. At the end of the Square des Héros.
7-Argaud Fountain. Set up in the square dedicated by the family of the famous aviator.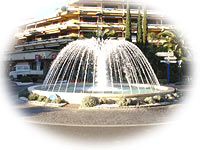 8-Fontaine du Jumelage.
A message of hope from Le Lavandou aimed at Europe and its twin city of Kronberg (see also the majestic fountain of the Roundabout in Kronberg)
9-Fontaine de la Belle Source.
The legend has it that it brings water from the Alps and never ceases to flow, seeping ochre, always cool.
10-Fountain-Marker of the Game of Boules.
On the Gabriel Péri Quay as a symbol of friendship with the town of Borme-les-Mimosas, symbolised by the lion from which Le Lavandou arose on 25 may 1913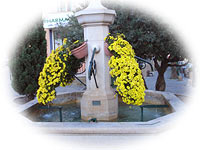 11-Saint Louis Fountain.
It bubbles up whispering, flowing from a wall faced with ancient tiles in the sobriety of the wood and the force of faith.
12-Saint Clair Fountain.
Not far from the old Hermitage of the White Penitents where Saint Clair healed blindness.
13-Fountain in the Place Bourdan.
In the shady little square of Cavalière a short couple of steps from the Temple of Hercule and the Greek and Phoenician port of Alconis.
14-Roundabout Grand Bleu.
Fountain "with three caudal" tribute to the whales that come along our coast