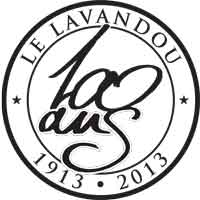 Le Lavandou was part of Bormes until 1913. The hamlet was founded by Italian migrants, fishermen and peasants from Piedmont in 1730. "Lauvandoun" was mentioned in 1700, a deformation of "Lavadou" synonymous with "lavoir" (washhouse) or "lavandula stoecha" (flower naturally occurring in Provence). The Greeks established the town of Alconis near Lavandou in Cavalière Bay.
1376, Saint Catherine of Siena set sail from Le Lavandou.
1481, Saint Francis of Paola from Calabria landed here; Le Lavandou's fishermen carried the statue of the saint during processions in Bormes. It was sacked and burned down several times by the Duke of Bourbon's troops in 1524, Moorish sailors in 1529 and Charles V's fleet a decade later.
1765, Catalan sailors arrived.
1794, Bonaparte visited to inspect the military batteries on-site.
1909, composer Ernest Reyer was buried here. He helped Le Lavandou become famous.
1913, Bormes-les-Mimosas and Le Lavandou were split into two separate towns.
1973, Twin Town with Kronberg im Taunus (Germany)
2013 Le Lavandou centennial commemoration


Official "floral village" (4 flowers) and distinction for the quality of its bathing waters (Pavillon Bleu).


Learn on history Le Lavandou and Le Lavandou's mayors