The fountain is the symbol of life and in each village in Provence you will come across a fountain around a little square or in the shade of a majestic plane-tree.

In Le Lavandou, we have 12 fountains which pour out water like a welcome offering
Fountain of the Three Dolphins.
It shows the coats of arms of Le Lavandou with its dolphins and lion surrounded by oak and olive leaves.
Bassin in the Place de Mado.
Recalls the former washing place in the station district at the time of the little Train des Pignes nicknamed "Le Mascaroun" (the Mask)
Hippolyte Adam Fountain.
Homage to the famous banker who set up house at Cap Layet, and was the fore-runner of tourism in Le Lavandou.
Le « Lavadou ».
Probable etymology of the origin of the name Lavandou, in the era when the "Bugadières" washer-women washed the laundry of the Pescadous
Miroir aux Oiseaux. At the end of the Square des Héros.
Argaud Fountain. Set up in the square dedicated by the family of the famous aviator.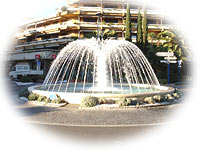 Fontaine du Jumelage.
A message of hope from Le Lavandou aimed at Europe and its twin city of Kronberg (see also the majestic fountain of the Roundabout in Kronberg)
Fontaine de la Belle Source.
The legend has it that it brings water from the Alps and never ceases to flow, seeping ochre, always cool.
Fountain-Marker of the Game of Boules.
On the Gabriel Péri Quay as a symbol of friendship with the town of Borme-les-Mimosas, symbolised by the lion from which Le Lavandou arose on 25 may 1913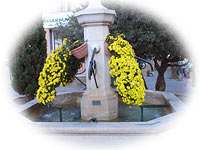 Saint Louis Fountain.
It bubbles up whispering, flowing from a wall faced with ancient tiles in the sobriety of the wood and the force of faith.
Saint Clair Fountain.
Not far from the old Hermitage of the White Penitents where Saint Clair healed blindness.
Fountain in the Place Bourdan.
In the shady little square of Cavalière a short couple of steps from the Temple of Hercule and the Greek and Phoenician port of Alconis.