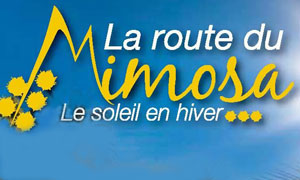 The mimosa was introduced on the French Riviera around 1850. It became the "king of winter" in those areas with a mild climate such as Mediterranean Provence. Its numerous qualities explain its huge success in gardening and cultivating it as a crop.
Scientific name : Acacia. Not to be confused with trees commonly called acacias but whose scientific name is Robinia. Another plant whose scientific name is Mimosa pudica is called the "sensitive" because its leaves retract at the slightest touch.
Origin : There is more than 1200 species in Africa, in Central America, South America and some in Asia. More than 700 come from Australia including the one cultivated in France around Cannes, Golf-Juan, in the Maures and Esterel hills, in the Massif of Tanneron, around Nice and the Italian coast. The mimosas are small trees that belong to the leguminous plant family.
Type : the mimosas form shrubs or trees, prickly or not, possibly with creeping form. Mimosas grow in a variety of soils. Their growth is fast (30 to 60cm/year), but their life is quite short.
Flowering : Flowers in glomerule, cotton ball or in spike, sometimes called caterpillar. The color varies from white to orangey yellow. The flowers are often very fragrant. Each flower is actually very small, often formed of 5 sepals and 5 petals. But all the decorative value comes from the numerous yellow, sometimes white stamens. The glomerules and the spikes are in fact a union of many flowers: from 10 to 100 depending on the species..
| | |
| --- | --- |
| The Mimosa Brotherhood | Les Mimosistes |
| On the Pegomas territory, horticulturists developped specific qualities for bouquet of Mimosa. The Mimosa brotherhood was born in 1998 among the mimosits of Pegoma at M.Livernet's behest. The 33 fellow members solemnly undertook to promote their favorite flower: by creating and participating to events, organizing visits and conferences. The brotherhood endeavors to live traditions in the "Golden Triangle": Mandelieu, Tanneron et Pégomas. | Essentially established around the massif of Tanneron. Their profession is linked to the exploitation of cropped flower. There, we can find the mimosa's forcing houses, meant to master the flowering of mimosa. Calude Caranta, knight of the Mimosa brotherhood, mimosist, created with Mister Baccou's help, master of research at the biotechnology of the Montpellier faculty, a product to preserve the Mimosa flower in a bunch with 90% food components. |