Coat of arms in the French Riviera
Art heraldic coat of arms and blazons Lavandou, Bormes-les-Mimosas, La Londe-les-Maures, the Rayol-Canadel, Hyères-les-Palmiers in Var history. France
Hyères-les-Palmiers

The coat of arms description:
D'azur à la tour d'argent maçonnée de sable, ouverte et ajourée du champ, crénelée de quatre pièces, sommée de trois tourelles crénelées chacune de quatre pièces du même, accompagnée en pointe de 3 besants d'or 2 et 1
La Londe-les-Maures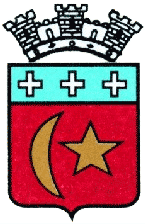 Blasonnement : De gueules au croissant contourné d'or senestré d'une étoile du même, au chef cousu d'azur chargé de trois croisettes d'argent
Coat of arms was created under Albert Roux's ministry, second mayor of Londe. Iits creation goes back up between 1904 and 1912, dates to which it appears on boys' school (current Jean Jaurès school)
Le blason est orné d'un croissant de lune et d'une étoile. Le croissant de lune et l'étoile sont surmontés de trois croisettes, symbole de chrétienté, qui trouve leur explication dans une légende Londaise. Au retour de sa septième croisade, Saint Louis débarqua à Hyères et trois de ses chevaliers seraient venus trouver repos et guérison dans un hôpital situé aux Bormettes. Ayant retrouvé leur vaillance, chacun d'entre eux auraient offert à leurs hospitaliers une croix détachée de leur insigne en gage de reconnaissance.


more information
Le Lavandou
Have a look at the Lavandou coat of arms.
It was created in 1950 by Marius Dorie, Mayor at the time. It is made

up of :
On top, Bormes Manor
On the left, a lion on its hind legs, "lampassé"* and "vilené de gueule"*
On the right, three dolphins on a sky-blue background to indicate our town's maritime calling.
The Croix de guerre is appendue in the ecu. Below this one appears a listel with the name of the municipality
.
**In the language of heraldry, any four-footed animal, but particularly the lion and the leopard, is said to be "lampassé" when its tongue is in a special kind of enamel. Any male animal whose member is also of a special kind of enamel is said to be "viléné
Le Rayol Canadel
Blasonnement:

D'azur au soleil d'or rayonnant et mouvant de la pointe, à la nef cousue de gueules posée sur le soleil, avec une voile du même chargée d'une étoile d'or, au chef cousu de sinople chargé de trois écureuils assis d'or
Cavalaire-sur-Mer
The Roman nave represents the antique origin of the city where Ligures came to settle down in 800 before JC and based a Greek colony Héracléa Cacabaria.

Blasonnement :

De gueules au soleil rayonnant et flamboyant d'or issant de l'angle dextre du chef, à la nef romaine du même nageant sur les flots ondés d'azur, accompagné dans le canton senestre du chef d'une perdrix également d'or
Other arms of the Var
| | | | | | |
| --- | --- | --- | --- | --- | --- |
| | | | | | |
| | | | | | |
Discover Provence
| | | | | | | |
| --- | --- | --- | --- | --- | --- | --- |
| | | | | | | |
| History | Arms of coat | Saint-Pierre | Romerage | Corso | Twinning | Origin Lavandou |
| | | | | | | |
| Saint-Louis | Fontains | Castle | Celebritiés | Collectors | Fishing | Var |