La Londe town is spread out on 7826 hectares at the bottom of the Massif des Maures. ¾ are made of forest, ¼ is devoted to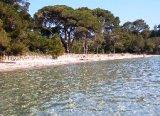 agriculture (including 1170 hectares of vineyards).Its Marina, the « Miramar » is among the largest in the Var. Located in front of the Iles d'Or (Golden Islands), the village is the point of departure for the tourists to go across. In the antiquity, the Roman established a port in Agentiere and probably started the exploitation of the zinc mine that kept going through the medieval time. In 1678, Antoine Lemonnier, sir of the Londe acquired large pieces of land and built a residence named "Chateau de la Londe", which one gave its name to the future village that will be dependant of Hyeres in 1798.
Summer tourism is the main reason why people visit la Londe. It has large

beaches and a privileged location with a microclimate of 300 days of sun per year. The Bormettes, this area is a village of its own, typically provencal and located around the Belot square; not far from the port you can find the Bormettes Theater.
The Gaoutabry Dolmen is a megalithic monument perched in a Maures hill, from where you have a beautiful view of the Iles d'Or. 3km of natural sand beaches: Miramar, Tamaris, Argentiere (Pavillon bleu of Europe) and Pellegrin.
Argentiere underwater path: protected nature reserve that provides a habitat for a unique fauna and flora, thanks to the posidonie herbariums.
The public school museum, recreates a 1903 classroom, with its accessories, workshop, toys. Iles d'Or (Golden Islands): Port-Cros, Porquerolles and the Levant island are located right in front of the bay with coastal links from the ferry terminal.